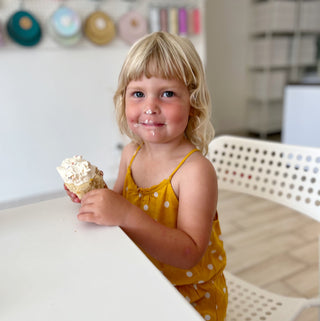 OUR CAFE IS DESIGNED FOR YOUNG CHILDREN TO BE THEMSELVES.
Wide ramp into the bakery
Spacious cafe for strollers and wagons
Small play area with children's library
Washroom with change table, diaper genie and step stool to reach the sink
No Wi-Fi or power outlets so you won't interrupt anyone working on their laptop
Cleaning supplies at the ready
Baked Goods
You can find a selection of rotating baked goods at our cafe, all made onsite. We have vegan and gluten-free options so there is something for everyone to enjoy.
"The shop is such a great spot to hang out. It's thoughtfully set out for families and one of the few places I feel really welcome with an active and loud toddler."
"Such a great cafe! Welcoming of all, even tiny humans! I love that the washroom is stocked with everything anyone could need if they forgot items at home."