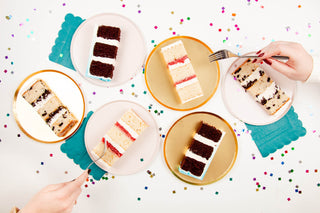 How much cake do i need? Results
HALF OF YOUR GUEST LIST
100 guests? Your cake should provide about 50 servings.
Sometimes, you just don't need a lot of cake. (I know, shocking!) Sounds like you either have a meal that will rival a major holiday feast or your guests just aren't that into sweets. In either case, your cake doesn't need to do the heavy lifting. If you have an epic dessert table planned, the same rules apply. You'll have so many options, that cake might not be on the top of everyone's list. The bonus? This means that you can play with interesting cake flavours since you aren't trying to appeal to the masses.
MOST OF YOUR GUEST LIST
100 guests? Your cake should provide about 75-85 servings.

This is the most common recommendation for cake servings. If you're having a meal at your event, not everyone will want to indulge in a piece of cake afterwards. This is especially true if cake slices will be on a table for guests to help themselves. They might be so busy socializing, they don't even realize there is dessert available! By ordering cake for most of your guests, you'll have enough cake without worrying about leftovers.

MORE THAN YOUR GUEST LIST
100 guests? Your cake should provide about 110 servings.
In this scenario, the cake is the star of the show! Since you'll be serving a slice to everyone, you'll need to make sure you have more than enough. This option is perfect for birthday parties or weddings where the cake will be served as part of the meal. This is also a good rule of thumb, if you like your cake slices to be on the larger size. You'll want to pick a cake flavour that appeals to most of your guests, like a classic vanilla or chocolate cake.